BACK


(Character: Princess Leia - Classic Trilogy)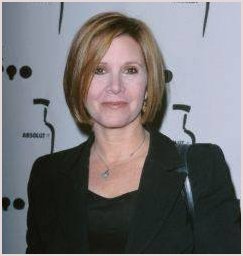 THE FACTS:
Name: Carrie Fisher
Occupation: Actress, Novelist, Script Nurse
Birthdate: October 21, 1956
Birthplace: Los Angeles, California
Height: 5' 1"
Husband: Paul Simon (1983) (divorced)
Daughter: Billie Catherine (born 1993 with Bryan Lourd)
Brother: Todd Fisher
Half-Sisters: Joely Fisher, Tricia Leigh Fisher
Before Mara Jade and Queen Amidala there was Carrie Fisher's Princess Leia. The first woman of "Star Wars", she set forth a traditon not only beauty, but strength for future "Star Wars" women. In fact, she lent her skills and familiarity with "Star Wars" to the story of her characters mother in the Prequel "Star Wars - Episode I"
Born into show business, Carrie is the daughter of singer Eddie Fisher and actress Debbie Reynolds (who were divorced when she was two). By the time junior high school came around, Carrie had started playing in her mother's Vegas nightclub act. She dropped out of school and found herself working with her mom again in the Broadway revival of Irene at the age of seventeen (1975). Her first movie was Shampoo. But she gained her fame with the leading role as the feisty Princess in the Star Wars trilogy. Her subsequent film appearances have been as a witty, wisecracking best-friend-of-the-lead supporting player. She gained renewed attention in 1990 with her screenplay for "Postcards From the Edge" (adapted from her best-selling semi-autobiographical novel about an actress dealing with both drug rehabilitation and an alcoholic, attention-hungry mother). Her second novel, Surrender the Pink (1990), is a fictional account of her relationship with ex-husband, singer-songwriter Paul Simon. She married him in the eighties and divorced a year later. However, she later produced a beautiful daughter, Billie, with Bryan Lourd. This relationship broke when he left her for a man.

Fisher has become a high-paid script nurse in Hollywood, lending her talent to films such as Hook, Sister Act, and Lethal Weapon 3.
FAN MAIL:
Carrie Fisher
Creative Artists Agency
9830 Wilshire Blvd
Beverly Hills, CA 90212

Carrie Fisher
1700 Coldwater Canyon
Beverly Hills, CA 90210
FILM
Jay and Silent Bob Strike Back (2001) as Nun
Heartbreakers (2001) as Ms. Surpin
These Old Broads (2001) as (uncredited) Hooker
Scream 3 (2000) as Bianca Burnette
Austin Powers: International Man of Mystery (1997)
Present Tense, Past Perfect (1995)
Science Fiction: A Journey Into the Unknown (1995) as Herself
This Is My Life (1992) as Claudia Curtis
Hook (1991) as (uncredited) Woman kissing on bridge
Drop Dead Fred (1991) as Janie Sherue
Soapdish (1991) as Betsy Faye Sharon
Sweet Revenge (1990) as Linda
Sibling Rivalry (1990) as Iris Turner-Hunter
'burbs, The (1989) as Carol Peterson
Loverboy (1989) as Monica Delancy
She's Back (1989) as Beatrice
When Harry Met Sally... (1989) as Marie
Appointment With Death (1988) as Nadine Boynton
Amazon Women on the Moon (1987) as Mary Brown
Time Guardian, The (1987) as Petra
Hannah and Her Sisters (1986) as April
Hollywood Vice Squad (1986) as Betty Melton
Man with One Red Shoe, The (1985) as Paula
Garbo Talks (1984) as Lisa Rolfe
Return of the Jedi (1983) as Princess Leia
Under the Rainbow (1981) as Annie Clark
Blues Brothers, The (1980) as Mystery Woman
Empire Strikes Back, The (1980) as Princess Leia
Mr. Mike's Mondo Video (1979)
Star Wars (1977) as Princess Leia Organa
Shampoo (1975) as Lorna

SCREENPLAY
Star Wars: Episode I (1999)
Sister Act (1992) (uncredited)
Lethal Weapon 3 (1992) (script nursed)
Hook (1991) (script nursed)
These Old Broads (2001) (TV) (written by)
"The Young Indiana Jones Chronicles" (1992) TV Series (writer) (episode "Paris, October 1916")
Postcards from the Edge (1990) (book) (screenplay)