BACK


(Character: HAN SOLO - classic Trilogy)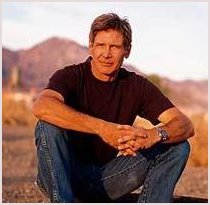 THE FACTS:
Birthdate: July 13, 1942
Birthplace: Chicago, Illinois

Family:
Wife: Melissa Mathison (screenwriter)
ex-wife: Mary Ford
kids: Benjamin, Willard,
Malcolm, Georgia
Working as a carpenter at the time, Harrison Ford was picked for the role that would change his career because he worked well with his co-stars. The role was the good hearted, but arrogant space pilot Han Solo in "STAR WARS". He became a romantic leading man in the second installment and also became the romantic star as the hero of Lucas and Steven Spielberg's "Raiders of the Lost Ark" (1981) and subsequent "Indiana Jones" chronicles.

Before than he was then, phenomenal success was not his. After a brief stint as a film actor in the late 1960s, Ford turned to carpentry for five years. He returned to Hollywood in George Lucas' "American Graffiti". But it was after "Star Wars" and "Indiana Jones" that he became the star we know now.
After "Indiana Jones" he continued his "cult movie" tradition as the android killing cop in "Blade Runner", but proved capable of a wider emotional range as Peter in Weir's "Witness". Ford followed up this performance with a somewhat problematic "The Mosquito Coast". Thereafter Ford settled into a comfortable box-office plateau for the rest of the 1980s and on into the 90's. Teaming up with Sean Connery, he bid farewell to Dr. Jones in Spielberg's "Indiana Jones and the Last Crusade". He played a series of intelligent, beleaguered professionals in a variety of mainstream romantic and action films. He provided the tense emotional core for Roman Polanski's "Frantic". In "Regarding Henry" he gained another chance to explore the vulnerable side of his star persona. Till this day Ford remains well sought after leading men.

FAN MAIL:
Harrison Ford
c/o McQueeney
10279 Century Woods Drive
Los Angeles, CA 90067

Harrison Ford
3555 N Moose Wilson Rd.
Jackson, WY 83001

Harrison Ford
P.O. Box 49344
Los Angeles, CA 90049-0344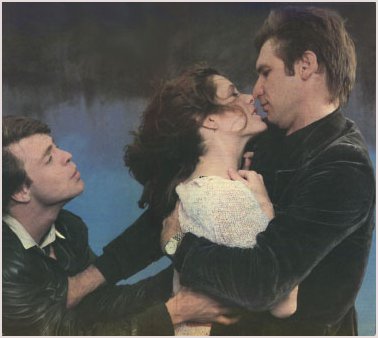 FILMS
K-19: The Widowmaker (2001)
What Lies Beneath (2000)
Jane Goodall - Reason for Hope (1999)
Random Hearts (1999)
Unauthorized Star Wars Story, The (1999)
Wolfgang Petersen 3-Pack
Six Days, Seven Nights (1998)
Air Force One (1997)
The Devil's Own (1997)
Sabrina (1995)
Clear and Present Danger (1994)
Mustang - The Hidden Kingdom (1994)
Fugitive (1993)
George Lucas: Heroes, Myths and Magic (1993)
Patriot Games (1992)
Regarding Henry (1991)
Presumed Innocent (1990)
Indiana Jones and the Last Crusade (1989)
Working Girl (1988)
Frantic (1987)
The Mosquito Coast (1986)
Witness (1985)
Indiana Jones and the Temple of Doom (1984)
Return of the Jedi (1983)
Blade Runner (1982)
Raiders of the Lost Ark (1981)
The Empire Strikes Back (1980)
Apocalypse Now (1979)
The Frisco Kid (1979)
Hanover Street (1979)
Star Wars Holiday Special (1978)
Force 10 From Navarone (1978)
Heroes (1977)
Barnsby Heroes (1977)
The Possessed (1977)
Star Wars (1977)
The Conversation (1974)
American Graffiti (1973)
The Intruders (1970)
Getting Straight (1970)
Zabriskie Point (1970) (uncredited)
Journey to Shiloh (1968)
A Time for Killing (1967)
Luv (1967)
Dead Heat on a Merry-Go-Round (1966)
Notable TV appearences
"Young Indiana Jones Chronicles, The" (1992) playing "Indiana Jones - age 50" in episode: "Young Indiana Jones and the Mystery of the Blues" (episode # 2.5) 3/13/1993
"Petrocelli" (1974) playing "Tom Brannigan" in episode: "Edge of Evil" (episode # 1.4) 10/2/1974
"Kung Fu" (1972) playing "Mr. Harrison" in episode: "Cross-ties" (episode # 2.18) 2/21/1974
"Gunsmoke" (1955) playing "Hobey" in episode: "Whelan's Men" (episode # 18.20) 2/5/1973
"Gunsmoke" (1955) playing "Print" in episode: "Sodbusters, The" (episode # 18.11) 11/20/1972
"Dan August" (1970) in episode: "Manufactured Man, The" 3/11/1971
"Love, American Style" (1969) playing "Roger Crane" in episode: "Love and the Former Marriage" 11/24/1969
"F.B.I., The" (1965) in episode: "Scapegoat, The" (episode # 5.124) 11/23/1969
"My Friend Tony" (1969) in episode: "Hazing, The" 2/16/1969
"F.B.I., The" (1965) in episode: "Caesar's Wife" 1/26/1969
"Ironside" (1967) playing "Tom Stowe" in episode: "Past is Prologue, The" (episode # 1.13) 12/7/1967
"Virginian, The" (1962) playing "Cullen Tindall" in episode: "Modoc Kid, The" (episode # 5.19) 2/1/1967