BACK


(Character: Luke Skywalker - Classic Trilogy)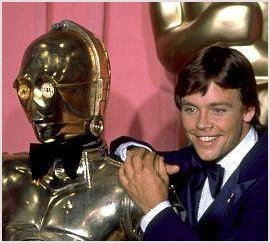 THE FACTS:
Name: Mark HAMILL
Birth Date: September 25, 1951
Birth Place: Oakland, CA
This Blue-eyed, fair-haired, boyish young man brought to life and brought his career to life with the hero Luke Skywalker in the blockbuster "Star Wars: A New hope" and the later sequels. As the central character who finds his future by finding his past, he epitimized the journey from boyhood to manhood through these three stories and sets the framework for the later struggles of Luke in the expanded universe.

The son of a US Naval captain, Hamill grew up in California, Virginia, New York and Japan. While a student at Los Angeles City College he made his professional acting debut in "The Bill Cosby Show" (1970). He went on to regular or recurring roles on the soap "General Hospital" and sitcoms "The Texas Wheelers" and "One Day at a Time" before landing the star-making part in "STAR WARS". Hamill became the ideal boy-next-door type and this saw him cast in roles which capitalized on these assets. Between the "STAR WARS" movies, He starred in the teen comedy "Corvette Summer" (1978), "The Big Red One" (1980), and "Britannia Hospital" (1982).

In the mid-80s Hamill moved to New York. He worked on Broadway appearing in the lead roles of "The Nerd" and "Amadeus". Then he starred in the British- made sci-fi "Slipstream" (1989) as a futuristic bounty hunter. Film and TV work has found Hamill typecast in sci-fi and action adventures, thrillers and fantasies, even in the animated world. He was the voice of the zany Joker in the animated BATMAN TV series and feature "Batman: Mask of the Phantasm" (1993). HE made his CD-ROM debut as star of the computer game "Wing Commander III: Heart of the Tiger" (1995).



Fan mail:
Mark Hamill
PO Box 124
Malibu, CA 90265

Mark Hamill
c/o Mark Hamill International Fan Club
P.O. Box 1051
Malibu, CA 90265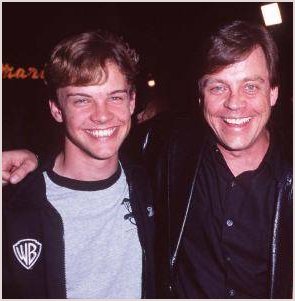 FILM

Soldier of Fortune II: Double Helix (2001) as Assistant Director Wilson
Thank You, Good Night (2001) as Karl, Lee's Father
Balto II, Wolf Quest (2001)
"Justice League" (2001) TV Series as (voice) The Joker, Solomon Grundy
Batman: Vengeance (2001) as (voice) The Joker
Jay and Silent Bob Strike Back (2001)as Cock-Knocker/Himself
Hamilton (2001) (TV) as Hawkins
Icewind Dale: Heart of Winter (2001) (voice)
Earth Day (2000) (voice) as Dr. Bob
Walking Across Egypt (2000) .... Lamar
Batman Beyond: Return of the Joker (2000) as (voice) Jack Napier/The Joker, Wayne Enterprises COO Jordan Price
Joseph: King of Dreams (2000) as (voice) Judah
Scooby-Doo and the Alien Invaders (2000) as (voice) Steve
Sinbad: Beyond the Veil of Mists (2000) (voice) Captain of the Guard
Starsiege (1999) as (voice) Harabec
The Night of the Headless Horseman(1999) as Van Ripper
Gen 13 (1998) as (voice) Threshold/Matthew Callahan
Scooby-Doo on Zombie Island (1998) as (voice) Snakebite Scruggs
The Batman/Superman Movie (1998)as (voice) Jack Napier/The Joker
Watchers Reborn (1998) as Murphy
Hamilton (1998) as Mike Hawkins
Laserhawk (1997) as Bob
Wing Commander: Prophecy (1997) as Commodore Christopher Blair
When Time Expires (1997) as Bill Thermot
Bruno the Kid: The Animated Movie (1996) (V) as Harris
Spider-Man: Sins of the Fathers (1996) (V) (voice) as Hobgoblin/Jason Phillips Marcendale
Full Throttle (1995/III) as (voice) as Adrian Ripburger/Emmet/Todd Newlan
Wing Commander IV: The Price of Freedom (1995) as Colonel Christopher Blair
Village of the Damned (1995) as Rev. George
Gabriel Knight: Sins of the Fathers (1994) (VG) (voice) as Detective Mosely
The Raffle (1994) as Bernard Wallace
Wing Commander III: Heart of the Tiger (1994) (VG) as Colonel Christopher 'Maverick' Blair
"Phantom 2040" (1994) TV Series (voice) as Dr. Jak
Time Runner (1993) as Michael Raynor
Batman: Mask of the Phantasm: The Animated Movie (1993) (voice) as Jack Napier/The Joker
Hollyrock-a-Bye Baby (1993) (TV) (voice) .... Slick
Body Bags (1993) (TV) as Brent Matthews
Stephen King's Sleepwalkers (1992) as (uncredited) Lt. Jennings
Black Magic Woman (1991) as Brad Travis
Flash II: Revenge of the Trickster (1991) as The Trickster
Picture Perfect (1991) as Josh Payton
Earth Angel (1991) (TV) as Wayne Stein
Midnight Ride (1990) as Justin
La Chute des aigles (1989) as Peter Froehlich
Slipstream (1989) as Will Tasker
The Little Mermaid, The (1989) (assorted voices)
Star Wars (1983) (VG) (voice) .... Luke Skywalker
Star Wars: Episode VI - Return of the Jedi (1983) as Luke Skywalker
Britannia Hospital (1982) as Red
Night the Lights Went Out in Georgia, The (1981) as Conrad
Big Red One, The (1980) as Pvt. Griff, 1st Squad
Star Wars V: The Empire Strikes Back (1997) as Luke Skywalker
Sam Fuller and the Big Red One (1979) as Himself
Skatetown, U.S.A. (1979)
Corvette Summer (1978) as Kenneth W.Dantley Jr.
The Star Wars Holiday Special (1978) as Luke Skywalker
Wizards (1977) (voice) as Sean
Star Wars (1977) / Star Wars: Episode IV: A New Hope (1977) (new title) as Luke Skywalker
The City (1977) asEugene Banks
Mallory: Circumstantial Evidence (1976) as Joe Celi
Eric (1975) as. Paul Swensen
Delancey Street: The Crisis Within (1975) as Philip Donaldson
Sarah T. - Portrait of a Teenage Alcoholic (1975) as Ken Newkirk
TV
"Oblongs, The" (2001) as "Mr. Phugly" in episode: "Milo Interrupted"
"Son of the Beach" (2000) as "Divine Rod" in episode: "Rod Strikes Back"
"Buzz Lightyear of Star Command" (2000) as "Flint"(voice) in episode: "Planet of the Lost"
"Buzz Lightyear of Star Command" (2000) as "Flint"(voice) in episode: "Planet of the Lost"
"Batman Beyond" (1999) as "Carter"(voice) in episode: "Out of the Past" (episode # 3.5)
"Hollywood Off-Ramp" (2000) as "Alex Cross" in episode: "Murder: Take 2, 3, 4..."
"Son of the Beach" (2000) as ""Divine Rod" Petrie" in episode: "Eat My Muffin"
"The Powerpuff Girls" (1998) TV Series as (voice) Evil Cat, Additional Voices
"Mad TV" (1995) as "Mr. Swan"
"Spider-Man" (1995) as "Hobgoblin/Jason Marcendale/Jason Phillips"(voice) 2000
"Powerpuff Girls, The" (1998) as "Cat"(voice) in episode: "Cat Man Do" 1/27/1999
"Simpsons, The" (1989) as "Himself"(voice) in episode: "Mayored to the Mob"
"Just Shoot Me" (1997) as "Himself" in episode: "List, The"
"Spider-Man" (1995) as "Hobgoblin"(voice) in episode: "Spider Wars, Chapter 1 : I Really, Really Hate Clones"
"It's True" (1998/I) as "Herbert Rumford/Albert Rumford/Granny Rumford" in episode: "Rats of Rumfordton (Pilot), The"
"V.I.P." (1998) as "Ned Irons" in episode: "Uncle from V.A.L."
"Superman" (1996) as "The Joker"(voice) in episode: "World's Finest (Part 3)"
"Superman" (1996) as "The Joker"(voice) in episode: "World's Finest (Part 1)"
"Superman" (1996) as "The Joker"(voice) in episode: "World's Finest (Part 2)"
"Pinky and the Brain" (1995) as "Jimmy Joe Jr."(voice) in episode: "Brain Acres" 9/27/1997
"Space Ghost Coast to Coast" (1994) as "Himself" in episode: "Switcheroo (II)"
"3rd Rock from the Sun" (1996) as "Himself" in episode: "15 Minutes of Dick"
"Real Adventures of Jonny Quest, The" (1996) as "General Vostok / Guard"(voice) in episode: "General Winter"
"Johnny Bravo" (1997) as "Various"(voice)
"Pepper Ann" (1997) as "Himself"(voice) in episode: "Portrait of the Artist as a Young Milo"
"Real Adventures of Jonny Quest, The" (1996) as "Vostok"(voice) in episode: "Rock of Rages"
"Pepper Ann" (1997) TV Series as (voice) Additional Voices/Himself
"The new adventures of Batman" (1997) TV Series as Jack Napier/The Joker
"Cow and Chicken" (1997) TV Series as Vet/Weenie Dog/Karate Chick/Mayor/Additional Voices
"Incredible Hulk, The" (1996) TV Series (voice) as Gargoyle
"Savage Dragon, The" (1996) TV Series (voice) as Additional Voices
"Wing Commander Academy" (1996) TV Series (voice) as Christopher 'Maverick' Blair
"Adventures from the Book of Virtues" (1996) TV Series (voice)
"Bruno the Kid" (1996) TV Series as (voice) Harris
"Spider-Man" (1995) as "Hobgoblin"(voice) in episode: "Sins of the Fathers: Part 12: The Spot"
"Spider-Man" (1995) as "Jason Phillips"(voice) in episode: "Sins of the Fathers: Part 5: The Rocket Racer"
"Real Adventures of Jonny Quest, The" (1996) as "Eldoradoan"(voice) in episode: "In the Realm of the Condor"
"Outer Limits, The" (1995) as "Dr. Sam Stein" in episode: "Mind Over Matter"
"Space Cases" (1996) as "a Fernaherna" in episode: "Day in the Life, A" 1996
"Tick, The" (1994) as "Julius Pendecker"(voice) in episode: "Devil in Diapers" 1996
"Spider-Man" (1995) as "Hobgoblin"(voice) in episode: "Neogenic Nightmare: Part 5: Mutants' Revenge"
"Spider-Man" (1995) as "Hobgoblin"(voice) in episode: "Neogenic Nightmare, The: Part 4: Mutant Agenda"
"Freakazoid!" (1995) as "Himself"(voice) in episode: "And Fanboy is His Name"
"Spider-Man" (1995) as "Hobgoblin"(voice) in episode: "Hobgoblin, The: Part 2"
"Spider-Man" (1995) TV Series as (voice) Hobgoblin/Jason Marcendale/Jason Phillips
"Red Planet" (1994) (mini) TV Series (voice)
"The Marvel Action Hour: The Fantastic Four" (1994) TV Series as (voice) Maximus the Mad/Triton
"SeaQuest DSV" (1993) as "Tobias LeConte" in episode: "Splashdown"
"Spider-Man" (1995) as "Hobgoblin"(voice) in episode: "Hobgoblin, The: Part 1"
"SeaQuest DSV" (1993) as "Tobias LeConte" in episode: "Dream Weaver"
"Swat Kats: The Radical Squadron" (1993) as "Surfer" in episode: "When Strikes Mutilor"
"Burke's Law" (1994) in episode: "Who Killed Alexander the Great?"
"Bonkers" (1993) (voice) in episode: "A Fin4e Kettle of Toons"
"Swat Kats: The Radical Squadron" (1993) playing "The Red Lynx" in episode: "Ghost Pilot"
"Swat Kats: The Radical Squadron" (1993) playing "Farmer" in episode: "Giant Bacteria"
"Batman: The Animated Series" (1992) TV Series (voice) as Jack Napier/The Joker
"Batman: The Animated Series" (1992) playing "Ferris Boyle" in episode: "Heart of Ice"
"Flash, The" (1990) as "The Trickster" in episode: "Trial of the Trickster"
"Flash, The" (1990) as "The Trickster , a.k.a. 'James Jesse'" in episode: "the Trickster"
"Hooperman" (1987) as "Producer" in episode: "Intolerance"
"Alfred Hitchcock Presents" (1985) as "Danny Carlyle" in episode: "Man on the Edge"
"Amazing Stories" (1985) as "Jonathan" in episode: "Gather Ye Acorns"
"Fred Flintstone and Friends" (1977) TV Series (voice)
"Eight Is Enough" (1977) TV Series .... David Bradford (1977)
"Muppet Show" (1976) as "Himself/Luke Skywalker"
"One Day at a Time" (1975) as "Harvey Schneider" in episode: "Schneider's Pride and Joy"
"Medical Center" (1969) as "Danny" in episode: "You Can't Annul My Baby"
"Texas Wheelers, The" (1974) TV Series as Doobie Wheeler (1974-75)
"Jeannie" (1973) TV Series (voice) as Corey Anders
"Petrocelli" (1974) in episode: "The Gamblers"
"Petrocelli" (1974) in episode: "The Outsiders"
"Streets of San Francisco" (1972) as "Andrew "Andy" Turner" in episode: "Poisoned Snow"
"Lucas Tanner" (1974) as "Craig Stanton"
"Magician, The" (1973) as "Ian Keefer" in episode: "Lightning On a Dry Day"
"Owen Marshall: Counselor at Law" (1971) as "Steven Knight" in episode: "Pool House"
"F.B.I." (1965) as "Michael Nabors" in episode: "The Corrupter"
"Night Gallery" (1970) playing "Francis the Messenger Boy" in episode: "There Aren't Any More McBanes"
"General Hospital" (1963) TV Series .... Kent Murray (1972-1973)
"Streets of San Francisco, The" (1972) as "Billy Wilson" in episode: "Innocent No More"
"Cannon" (1971) as "Farm boy" in episode: "Country Blues"
"Partridge Family, The" (1970) as "Jerry" in episode: "Old Scrapmouth"
"Bill Cosby Show, The" (1969) as "a student" in episode: "Poet, The" 1970